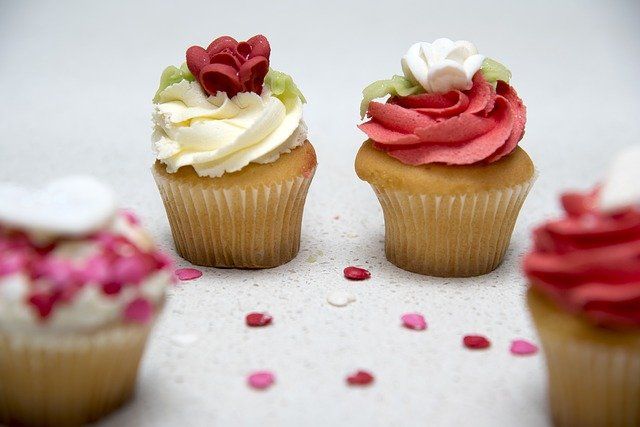 Whether you are a novice baker or a master artisan, you'll need the right kit before you start making your first batch of yummy, moist cupcakes. Quality tools will result in a quality result, so it definitely pays to have the correct baking equipment for cupcakes.
To achieve perfection, you'll need the following baking equipment for cupcakes:
3 size set of mixing bowls
Measuring spoons set
Sieve
Electric hand whisk
Balloon whisk
Bendy spatula
Cupcake tray
Cupcake paper cases
Disposable piping/icing bags
A decent set of icing nozzles
Cake toppers and sprinkles
You may already have some or all of the above equipment, or maybe it is time for an upgrade.
To save you time, we have chosen some examples of the basic equipment you'll need to knock up a decent batch of cupcakes, for example, our favourite recipe for vanilla cupcakes.
Classic Pyrex Mixing Bowl
This is the classic mixing bowl. Timeless Pyrex glass ovenware, the type everyone has used at school or home, and everyone's parents or grandparents have had one of these bowls. Incredibly durable (don't think we've ever seen a chipped one, let alone a broken one) and they are heat resistant up to a volcanic 300-degrees. Stain-resistant and scratch-resistant, these mixing bowls are safe for the oven, microwave, fridge, freezer and dishwasher. Pretty much everywhere. There aren't many bowls which come with a 10-year guarantee!
Stainless Steel Mixing Bowl Sets
This is a quality set of 3 high grade stainless steel mixing bowls. The set comprises 1.6 litre, 3 litre and 5 litre bowls, all with measuring guides and pouring spouts – incredibly practical. These VonShef bowls have a practical non-slip silicone base and silicone handles. Practical and stackable. Dishwasher safe and comes with a 2 year manufacturer warranty.
Measuring Spoons
Part of the Kitchen Craft Colourworks range, these measuring spoons are all you need to accurately measure your baking ingredients – sugar, flour, spices and herbs. The measurements are a quarter teaspoon, half teaspoon, one teaspoon, half a tablespoon and one tablespoon. The spoons are easy to read with millilitre equivalents. Two great things about these spoons. Firstly they are colour-coded so at a glance you can grab the one you need. Secondly (and best of all) they won't stain. Put anything you want in them – chilli powder, turmeric, saffron – they just won't stain. Dishwasher proof and with a five year guarantee. A perfect gift or stocking filler!
This deluxe set of measuring spoons are made from heavy-duty stainless steel, and are a must-have for any decent kitchen. Definitely a quality alternative to flimsy plastic spoons. These spoons are ideal for accurately measuring both dry and liquid ingredients. The spoons are 100% food safe and made from durable materials. The spoons have a copper mirror polish on the outside and a lovely inner satin finish. The luxurious look will make you the envy of your baking friends and their 15-year-old measuring spoons from Woolworths!
Fine Wire Mesh Kitchen Sieves
A decent set of sieves should definitely be part of your equipment to make cupcakes. If you've been planning to upgrade your sieves for a while, this set of 3 quality stainless steel sieves will be right up your street. Made from premium-grade material, and guaranteed to avoid rust, these three strainers (small, medium and large sizes) are sturdy with a quality finish. Two of the sieves come with over-hanging hooks for draining over a pan or mixing bowl. Easy to use, simple to clean and dishwasher safe. Brilliant value!
Stainless Steel Sieves and Strainers
If you can put your hand on the right-sized sieve at the right time whilst baking, it can be a godsend. Nothing worse than being halfway through a recipe and realising your only sieve is in the dishwasher. And its' handle broke 2 years ago. This set of three sieves are made from premium stainless steel, and have the added benefit of smart heat-resistant rubber grips. These help anyone – from children through to the elderly – to maintain a good grip whilst sieving, and they also protect the hands from any unexpected heat. Robust and reliable, the manufacturers back up these products with a 100% lifetime warranty. On a practical note, they are very hygienic and easy to clean as they have sealed steel rims which prevents food from getting trapped. Genius!
5-Speed Electric Hand Whisk
To save time in the kitchen and work more efficiently, your basic equipment to make cupcakes should include a half-decent electric hand whisk. You won't just use it for cupcakes, you'll find it comes it handy for all sorts of recipes. We recommend this VonShef Hand Whisk, which has an impressive 300W motor allowing you to whisk, mix and knead. This is particularly useful if you suffer from joint pain or arthritis. This electric hand whisk set includes 5 accessories meaning you can bake with ease. They include 2 beaters, 2 dough hooks and a balloon whisk for making meringues – yum!). It comes armed with 5 different speed settings, turbo function and an ejection button for easy release of the accessories. Stylish, convenient, lightweight and easy to use. Great value and great reviews from existing owners.
Three-Speed Hand Mixer
To complete your set of equipment to make cupcakes, the classic choice is a Kenwood hand mixer. This was really the only choice of electric hand whisk for our grandparents (maybe it was the only type you could get?!) and lasted for years and years. This 120W Kenwood hand mixer has 3 dedicated speeds for whisking, mixing and folding – very clever – and the stainless steel beaters are strong and durable. To assist comfort and control, the Kenwood mixer has a moulded-handle and wrap-around cable storage, as well as thumb-operated controls for easy use.
Dualit Chrome Electric Hand Mixer
When it comes to equipment to make cupcakes, If the Kenwood is the Volkswagen of the hand mixer world, then the Dualit Chrome 89300 has to be the Bentley. With a heavy-duty 400W motor, the Dualit is the equipment most chefs aspire to owning and will help rustle up the perfect batch of yummy cupcakes. With multiple speeds and accessories including flat beaters, dough hooks and a balloon whisk, the Dualit is an ideal multi-tasking workhorse. For comfort and practicality, it has a strong grip handle, beater ejector system, unique cord tidy with retractable cord and integral plug storage – very whizzy!
Stainless Steel Kitchen Balloon Whisks
Ergonomically-designed stainless steel balloon whisks, offering great balance and a lovely feel. This set of 3 whisks will give you all the versatility you need with 8-inch, 10-inch and 12-inch versions. The stainless steel wires and handle mean absolutely no rust and non-stick, resistant to high temperatures and dishwasher safe. The hook on the end of the whisk means easy storage. There aren't many products which come with a lifetime guarantee these days – but this is one of them!
Non-Stick Brabantia Large Whisk
Dating back to 1919, Brabantia is a global interior design brand known for high quality homewares. This large whisk is made from high-grade heat-resistant nylon, and comes with a 5 year guarantee. The whisk measures 29.cm x 6cm x 6cm, and has a hanging loop for easy storage.
Excellent value for a high quality whisk.
Non-Stick 12 Cupcake Baking Trays
This won't come as a surprise, but on your list of required equipment to make cupcakes, you will definitely need a decent cupcake tray! This high quality 12-cup baking tray has a non-stick coating and is perfect for baking (and releasing) brilliant cupcakes. The baking tray is heat-resistant up to 230-degrees, and is suitable for use in a dishwasher, fridge and freezer. Great value baking equipment.
Disposable Piping Bags and Twist Ties
So…you have baked the cakes and made the icing, now it is time to get piping. Essential equipment to make cupcakes includes a decent piping bag set! This pack includes 100 icing bags which have a smooth, non-slip exterior and are made of thick, strong plastic which can be cut to size. Any sized-nozzle can be inserted into the bag before filling – suitable for decorating tips and couplers, Russian piping tips and wilton tips. To be fair, the 12-inch bags can also be cut and used without a nozzle. The pack also includes 50 colourful 9cm piping bag twist ties.
50 Lakeland Disposable Piping Bags
50 quality disposable piping bags from Lakeland, suitable for use with any nozzle. You definitely need a steady hand when icing cupcakes with a piping bag, and these 'Get a Grip' silicone bags have a textured, non-slip finish. No more butter (cream) fingers! Helpfully supplied a roll, just tear off a bag when you need it and crack on. The bags are smooth on the inside with wide-opening at the top making them really easy to fill with your delicious cupcake icing! Best of all – they're disposable – so just throw them away when you're finished!
Personalised Edible Wafer Pre-Cut Photo Cupcake Toppers
For the perfect finishing touches to your cupcakes, these brilliant, edible photo wafers can be personalised with your own photo and message. This set includes 24 cupcake toppers, measuring 4cm and pre-cut so they can be applied easily to cakes. The cake topper, including ink and edible wafer, is suitable for vegetarians and vegans and is gluten-free.
12 pack Colourful Unicorn Cupcake Decorations
These days, if you don't have a unicorn, you aren't anyone. Give your delicious cupcakes a flourishing touch with these cute unicorns and rainbows. This cupcake decoration kit includes 6 rainbows and 6 unicorns, 2.5cm in diameter and perfect for cupcakes. The best bit, you can eat them! These toppers are made from sugar and completely edible. A great idea for cupcakes for parties for anyone who likes rainbows and unicorns!