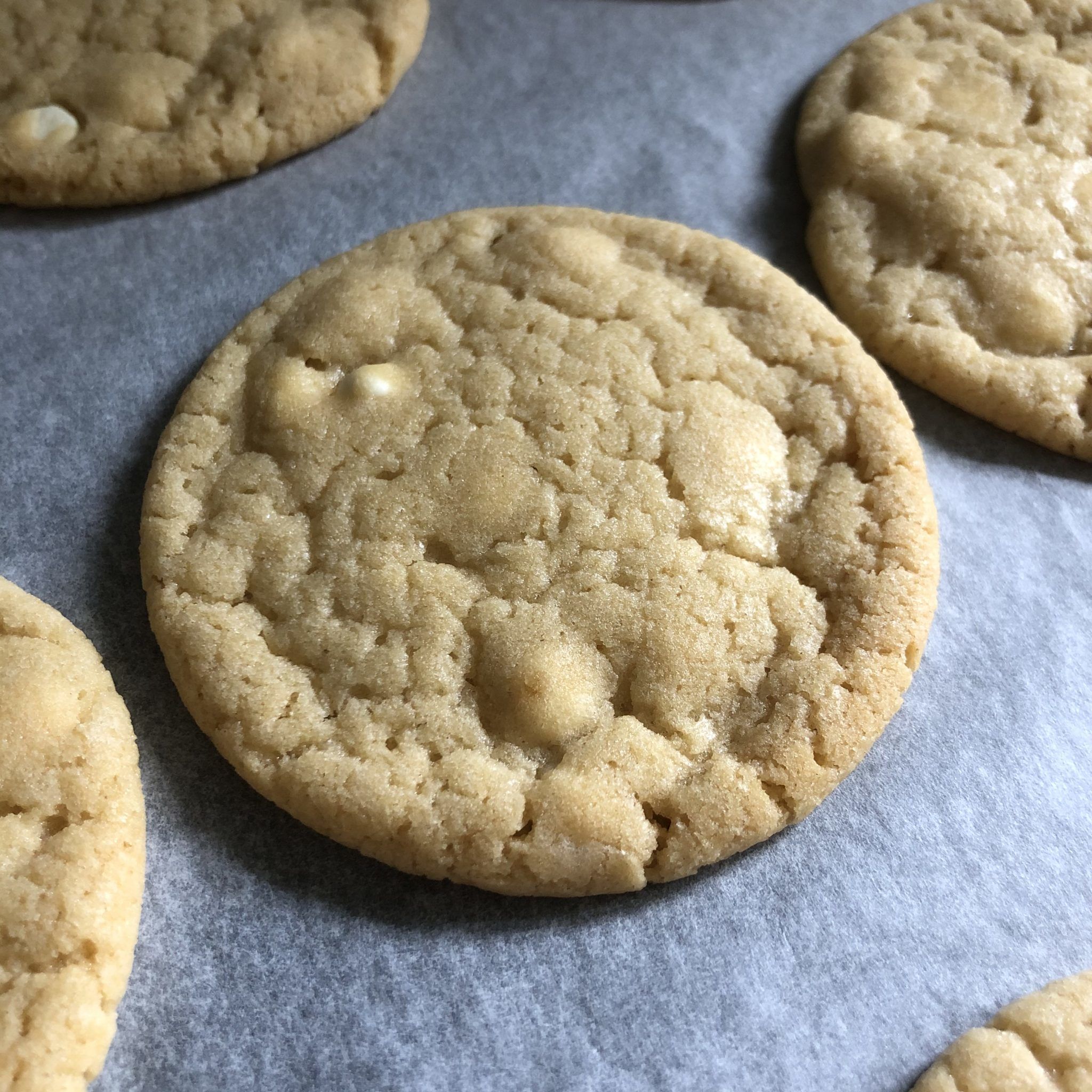 One of my favourite recipes ever. If you've ever savoured a Millie's cookie or one of those big cookies from a supermarket, you'll love this. A simple White Choc Chip Cookie recipe which produces the softest, chewiest cookies possible!
I try to use the best quality white chocolate chips that I can for this recipe. Callebaut Belgian chocolate chips are a good choice with 28% cocoa content and additive-free.
This White Choc Chip Cookie recipe is super-easy follow. In terms of equipment you might need, I swear by these Teflon baking liners for baking cookies.
Cookie Ingredients
125g butter, softened (NOT margarine)
100g light brown soft sugar
125g caster sugar
1 free range egg, lightly beaten
1 teaspoon vanilla extract
225g self-raising flour
½ tsp salt
150g high-quality white chocolate chips
Instructions
First of all, preheat the oven to 180C (350F) or Gas Mark 4.
In your favourite mixing bowl (we all have one, it makes things taste better!) cream the butter, caster sugar and light brown sugar together.
Once fully creamed together, add the egg and vanilla extract.
Gently sift in the self-raising flour. Add the pinch of salt and the star ingredient, the chocolate chips.
Roll the dough into balls – about 3cm in diameter or the size of a small golf ball! Place them on your lined baking tray and squash them down slightly. Leave a 5-10cm gap between each one as they will flatten and get wider.
Bake at 180C/350F for around 7-8 minutes. You want the cookies to be golden brown.
Take them out of the oven but DON'T TOUCH THEM YET! They will still be soft. Leave the cookies to harden a little and move them over to a cooling rack.
You can eat them warm (highly recommended!) or they will also store well. If you want to be really decadent, put a couple of cookies in a bowl while still warm and put a scoop of vanilla ice-cream on top. You'll be able to replicate that gorgeous Pizza Hut pudding.